Add Editable Region
Add Editable Region
The International Baccalaureate Primary Years Program (IB-PYP)

Founded in Geneva, Switzerland in 1968, the International Baccalaureate (IB) is a non profit educational foundation offering high quality programs of international education to a worldwide community of schools. Read More >
"I See IB"... The IB in Action at RASA
First Grade: It's All Greek to Me
Step into our first grade classroom and you will be surrounded by evidence of the class's current Unit of Inquiry: Ancient Greece. Large posters cover the wall with photographs, images, artwork, maps and text outlining the unit's Central Idea & Lines of Inquiry.
Central Idea:

Study of an ancient civilization gives us an idea what life was like in the past.

Lines of Inquiry:

People's beliefs in ancient civilizations
The influence of past civilizations on today
How artifacts help teach us about the past
Most importantly, the students' questions and ideas are written on the wall in their own handwriting.
What are philosophers?
Who is Zeus?
What did the Greeks eat?
Where did they shop?
Why was Greece so important?
What do the Olympics have to do with Greece?
---
Our teacher observes, "The unit of inquiry grows out of the students' interests. I love that about teaching IB. As the teacher, my job is to gather up their questions and interests like puzzle pieces and figure out how I can continue to inspire more questions that go deeper and foster authentic discovery."
Students at RASA become very aware of the special program of education they are receiving. The elements of an IB education become a part of their daily routines and behaviors. Students know they are studying "Units of Inquiry" and become very excited as each new unit starts. They know their questions and interests are valued and will guide the direction of exploration throughout the unit.
The teacher facilitates guided, modeled and open-ended inquiry and real life investigations, encouraging student initiative in choice of resources and appropriate means of expression. Learning at RASA is an active, continuous process (known in IB as the "Action Cycle"). Students choose, act and reflect on not only their learning but also on their actions and choices.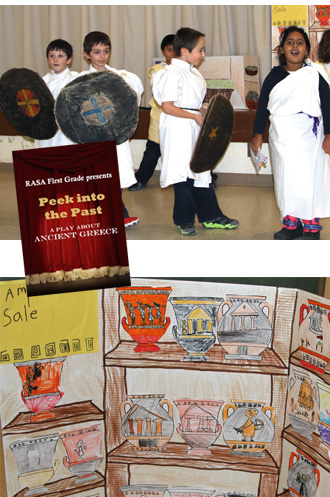 A recent class of first graders chose to create a play as the vehicle for sharing what they had learned throughout this unit. While this wasn't the idea the teacher had initially imagined, the class found themselves empowered and self-motivated with the direction they decided to take their learning.
Students brainstormed a list of characters and created the dialog after considering what they knew about each character. Using their creativity and knowledge, they decided the play should have a narrator, a chariot race, Spartan soldiers, and that no play about Ancient Greece would be complete without the Greek gods. The class designed and built chariot and horse props and their own costumes. The rehearsal process provided a meaningful opportunity for the students to reflect upon their performance and think about what they could do to make it better.
The International Baccalaureate® Primary Years Program (IB-PYP) is underpinned by six transdisciplinary themes around which learning is planned. They are described as transdisciplinary because they focus on issues that go across subject areas. These themes are selected for their relevance to the real world. These are:
Who we are.
Where we are in place and time.
How we express ourselves.
How the world works.
How we organize ourselves.
Sharing the planet
The Ancient Greece unit explores the
transdisciplinary theme of "Where we are in place and time"
. Teachers work together to develop investigations into important ideas, which require a substantial and high level of involvement on the part of students. With the transdisciplinary approach, a unit serves as a launching platform for an incredibly rich scope of learning across subject areas.
---
Our teacher notes, "Each year that I teach the Ancient Greece unit it has been different. There have been so many great ways that other disciplines have been incorporated…."
| | |
| --- | --- |
| Visual Art & History | The story and architecture of the Palace of Knossus. Recreating a Minoan dolphin fresco. Creation of props and scenery for the play with colored amphoras, shields, horses, and Greek motifs |
| Science & Language Arts: | Constellations and the links to Greek mythology |
| Music: | Exploring the music & musical instruments of Ancient Greece |
| History/Culture: | The food of ancient Greece |
| Language: | Words in our language that come from Greek, the Greek alphabet |
| Physical Education: | Classroom Olympics games |
| Language Arts & Music: | Aesop's fables as literature, and/or a musical play. |
| Math | Hands-on with Greek money and coins |
| Community & Culture | A RASA family from Greece as guest speakers sharing their culture and history |
The IB Primary Years Program
Addresses students' academic, social and emotional well-being

Encourages students to develop independence and to take responsibility for their own learning

Supports students' efforts to gain understanding of the world and to function comfortably within it

Helps students establish personal values as a foundation upon which international-mindedness will develop and flourish
About International Baccalaureate: Education for a Better World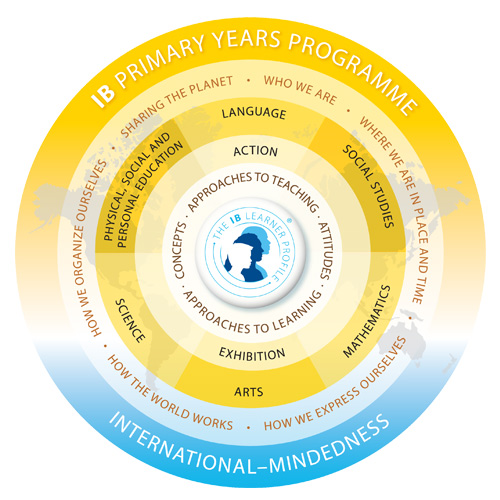 Founded in Geneva, Switzerland in 1968, the International Baccalaureate (IB) is a non profit educational foundation offering high quality programs of international education to a worldwide community of schools. The International Baccalaureate® aims to do more than other curricula by developing inquiring, knowledgeable and caring young people who are motivated to succeed.
Every school authorized to offer IB programs is known as an IB World School.
The IB- Primary Years Program (PYP) is designed for students age 3-12.